Four Reasons to Consider a Postnuptial Agreement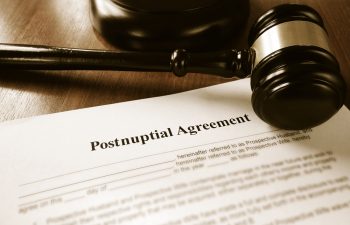 What is a Postnuptial Agreement?
Postnuptial agreements are similar to prenuptial agreements; however, the contract is written after a couple marries. There are many reasons why a married couple may consider getting a postnuptial agreement. Whether it is to safeguard money for children from a previous marriage or for a spouse looking to protect their business – a postnuptial agreement should be discussed between individuals.
Four Reasons Why a Couple May Consider a Postnuptial Agreement
You have children from another marriage.
A postnuptial agreement can be applied to couples that have children from previous marriages or relationships. As a parent, you want to ensure that your children receive the inheritance you intend to give after death. A postnuptial agreement would be able to outline the financial details for both individuals in a marriage. This legal agreement positively benefits large merged families.
You own a successful business.
A small business can grow over time, reaching new heights of success throughout your marriage. If you're looking to protect your business in the event of a divorce, a postnuptial agreement can be the solution. Without a prenuptial or postnuptial agreement, your business's assets could be up for division in a divorce.
[Related: Going Through Divorce as a Business Owner]
You opted out of signing a prenuptial agreement and changed your mind.
You and your bride-to-be might have briefly considered signing a prenuptial agreement but never had the time to follow through on it. A postnuptial agreement is a way to lay out the terms that you would've laid out in a prenuptial agreement.
Opting for a postnuptial agreement rather than a prenuptial agreement relieves the emotional stress of marriage planning. By taking the time to discuss contract details with your spouse and lawyer, you can thoroughly decide what you both want to protect.
[Related: Reasons to Get a Prenup Before Walking Down the Aisle]
Your spouse has committed adultery.
You have the option to get a postnuptial agreement if your spouse has cheated on you. This isn't meant to start a fight, but to reconcile. Signing an infidelity postnuptial agreement can dissuade any more infidelity instances by having the offending party agree to a specified financial payment if they were to cheat again.
[Related: How Do You Know If It's Time for a Divorce?]
In the state of Georgia, the courts recognize both pre- and postnuptial agreements. A postnuptial agreement can help lessen the time, money, and battles included in a marriage's dissolution. If you and your spouse want to discuss the possibility of signing a postnuptial agreement, then contact a trusted Georgia family law attorney, such as the ones at Boudreaux Law Firm.