How Do You Know If It's Time for a Divorce?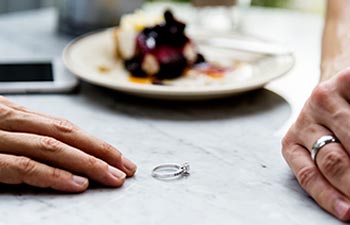 Is it Time for a Divorce?
Deciding if it's time for a divorce isn't easy or pleasant. You might have memories of your wedding day being the best day of your life. But it's years later when you've both changed or experienced a life event that has altered how you view your spouse that may start giving you doubt. If the following statements ring true to you, then it might be time to have a discussion with your spouse about divorce.
You Can Picture Your Life Without Your Spouse.
The top reason why it may be time for a divorce is when you can picture your life without your spouse, or you can see yourself with someone else. This could mark the beginning of an emotional shutdown. At this point, you or your spouse could be experiencing the process of moving on from the marriage.
You're No Longer a Team.
If you and your spouse are no longer on the same page when it comes to parenting or supporting each other's goals, then it could be a sign that it's time for a divorce. Not being a team could also mean that you're feeling distant from your spouse or resentment toward each other while parenting or making life decisions together.
In a strong, healthy marriage, you and your spouse should have each other's backs. A relationship struggles to survive without the emotional support each other needs.
There's A Lack of Respect for Each Other.
A relationship thrives when there is a mutual understanding and respect for each other. When there's mutual respect, parenting and household necessities are easier to accomplish. Without that element, it can be challenging to continue being with your spouse. A lack of respect can lead to serious contempt, distrust, or emotional or physical abuse in a marriage.
If you're in an abusive relationship in the state of Georgia, contact the trusted domestic violence attorneys at Boudreaux Law Firm to get the protection you need.
Necessary, Honest Communication Has Stopped.
Another telling sign that it may be time to get a divorce is when communication between you and your spouse has halted. If your marriage is mostly filled with silence because you or your spouse don't see a point in communicating, then it could be a sign that you or your spouse are no longer interested in each other's life. Couples should be able to share experiences and personal aspirations openly. Healthy marriages use honest communication to grow together.
If you relate to these statements, then it might be time to consider getting a divorce. The first step is to process your emotions and have a private conversation with your spouse.
Work with the compassionate and professional family law attorneys at Boudreaux Law Firm in Augusta, GA. We understand how difficult divorce can be and will listen to your concerns about child custody, assets, and more. Our attorneys are dedicated to helping you navigate through the divorce process with care.