Going Through Divorce as a Business Owner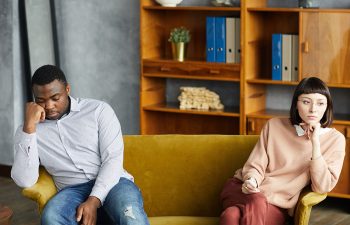 Four Ways for Business Owners to Protect Their Company During a Divorce
Your business is the most important asset in your life. It's how you're able to pay the bills and the place where you've invested hundreds of hours and resources. But just like any other asset in your life, it needs to be protected.
Nobody plans for a divorce, but up to 39 percent of marriages in the United States end in divorce. A divorce can impact you and your business financially and emotionally. However, it's never too late or too soon to prepare and protect your business. Protect your company with our top four legal suggestions.
[Related: How Do You Know If It's Time for a Divorce?]
Form an LLC, Trust, or Corporation
One way to protect your business in the case of divorce is to form an LLC, trust, or corporation. You can form an LLC or corporation even if you're considered the sole owner of the business.
By using this method, you're separating your business from yourself as an individual. It's important to note that you do not use marital assets to pay for business expenses. Doing so could result in the courts determining that the business is classified as marital property.
Sign a Prenuptial or Postnuptial Agreement
A common way to protect your business is through a prenuptial agreement. This legal agreement is a binding contract that each individual in the relationship signs before their wedding. It outlines what happens to all assets, property, and income in the case of a divorce, separation, or death. This protective measure is the quickest, easiest, and most cost-effective way to protect your business.
If you and your partner didn't get a prenuptial agreement prior to the marriage, a postnuptial agreement is also an option. As with prenuptial agreements, the postnuptial agreement will detail how to divide assets, including your business in the event of a divorce.
A properly drafted and executed prenuptial or postnuptial agreement will be enforced by courts unless the agreement 1) was obtained through fraud, duress, m stake, misrepresentation or non-disclosure of material facts; 2) is considered unconscionable; or 3) the financial circumstances of the parties have so significantly changed after the agreement was executed to make enforcement unfair or unreasonable.
[Related: How to List Your Debts & Assets for Your Divorce]
Pay Yourself a Competitive Salary
Don't make the mistake of reinvesting back into the business and failing to pay yourself a competitive salary.
Receiving your own salary will prevent confusion during a divorce. Your spouse may argue that they did not financially benefit during the marriage because the money went into the business rather than the household. In that case, the courts may rule that your spouse is entitled to a significant percentage of the business. By giving yourself a competitive salary, you are more likely to prove that finances between the company and the household shared with a spouse are officially separated.
Hire an Experienced Divorce Lawyer
Going through a divorce as a business owner can get complicated – quickly. Make sure you have an experienced divorce lawyer by your side.  Divorce laws vary on a state-by-states basis, and other multiple factors will be taken into account during a divorce. You need the right lawyer to guide you through your options and provide the information needed to protect your business.
[Related: Why You Should Avoid a DIY Georgia Divorce]
Rely on the divorce attorneys at Boudreaux Law Firm in Augusta, GA. We provide strong representation to business owners going through a divorce. Call 706-869-1334 today for a consultation.