What to Do After Being Served Divorce Papers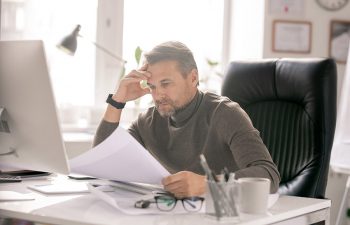 I've Been Served Divorce Papers. What Happens Next?
Whether it was expected or not, receiving divorce papers from a spouse marks the beginning of an uphill challenge. It isn't an easy thing to go through, but don't let your emotions get the best of you. You don't have to wonder what happens after divorce papers are served alone. Boudreaux Law Firm in Augusta, GA, is here to help you take the right steps after being served divorce papers.
Step 1: Contact a Divorce Attorney
The first step to take after being served divorce papers is to contact an experienced family law attorney such as the ones at Boudreaux Law. An attorney can help you through the jargon-filled pages in a divorce document and work with you throughout the emotionally difficult process. Our lawyers will be there for you to be the type of representation you need, whether it is a compassionate or aggressive approach.
Step 2: Know Your Deadlines
The second most important thing you should know after divorce papers are served is the deadline for a response. In the state of Georgia, it is protocol to file an answer within 30 days. Failure to respond after 45 days will result in a default divorce. In a default divorce, the judge can grant the divorce in the filing spouse's favor.
During this highly emotional time, it is strongly recommended that you avoid contacting your spouse. Instead, contact a skilled divorce attorney.
Step 3: Gather Financial Records
During this hectic and draining time in trying to figure out what happens after being served divorce papers, it is crucial to remember to gather and organize your financial records as a precaution to protect your assets.
Take the time to gather and revise all of your financial records and assets. This step may require relocating finances into a secure personal bank account. Along with protecting your bank account passwords, locate any and all copies of tax returns, credit card statements, and retirement accounts. Any documents that show your assets and debts need to be placed together in an organized manner.
Step 4: Create a Co-Parenting Plan
Although this step may not include everyone, it's better to be safe than sorry in knowing what happens after divorce papers are served when it comes to your children. If there are children involved, it is essential to use an attorney's advice and help to create an efficient form of communication between spouses concerning a child's wellbeing. It's important to hold back on strong emotions and attempt to talk to your spouse calmly about the child's future after divorce.
Step 5: Settle or Go to Court
Now, it's time to settle or go to court. Each case is different, while some divorces will be finalized in a settlement, other cases will require preparing for court dates.
Your legal team at Boudreaux Law Firm will guide you through your options and strongly represent you through this difficult time. Don't stand by and wonder what happens after divorce papers are served, contact Boudreaux Law today for helpful guidance.