When A Friend Is in Trouble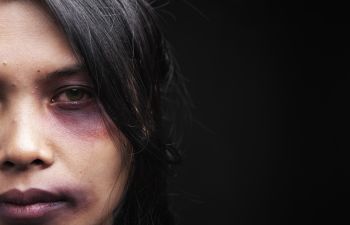 You've never really liked the guy your best friend married. Something about his personality sets you on edge. Within six months of the wedding, she had dark circles under her eyes, and a sadness that hung over her like a shroud. Occasionally, you would notice bruising on her arms, and once on the back of her neck when her hair was swept up. During both of her pregnancies, she seemed to improve, but the sadness and weariness always returns quickly after delivery.
The last time you visited, her husband had just left when you dropped by. The kids were screaming, there were broken plates all over the kitchen, and your friend was a hobbling, bleeding mess.
Time to Get Help
You took her home with you and talked through what was happening to her and her kids. She looked through websites like The Hotline and the NCADV to give her an idea of how to get out. She expressed interest, but is scared that anything short of final legal action will not be enough to stop the cycle of abuse.
If you're in the Augusta area, your next call should be to the Boudreaux Law Firm.
A Strong Offense is the Best Defense
All of our clients enjoy the attorney/client privilege, but this goes doubly for victims of domestic violence. We will fight for you to be able to have a home and a future safe from physical and emotional harm. Whether you or a loved one is in this situation, now is the time to get the law on your side. Contact Boudreaux Law Firm today to learn more about the rights and protection that you're entitled to.
Posted on behalf of Boudreaux Law Firm