How to Handle the Holidays After a Divorce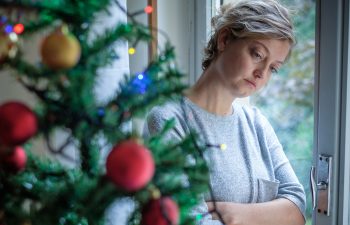 Tips for Handling the Holidays After a Divorce
Going into this year of holiday festivities after divorce will look very different than in previous years. It can also be a painful reminder of the past before the divorce. Whether your divorce was cordial or filled with tension, there's an opportunity for new holiday traditions. This year, take a chance to reflect on what truly matters to you as you step forward into a new year of holiday traditions after a divorce with our tips.
Establish Boundaries
For your mental and emotional wellbeing, you must establish boundaries with your ex-spouse when it comes to holiday events. It might not be the best choice to continue attending events you would have attended in previous years as it could be extremely uncomfortable.
Instead of going to your ex-spouse's family gathering on Christmas Eve, make plans with old friends and close family. This could be a small Christmas dinner or outing. You'll feel less pressure to act a certain way around your ex-spouse by surrounding yourself with those who know you best. Plus, surrounding yourself with loved ones can make new traditions less intimidating.
If you and your ex-spouse have the same circle of friends, chances are you'll both be invited to the same holiday parties. In that case, make sure to set boundaries by discussing how comfortable you are about attending the same parties. If you are not comfortable with being at the same place, then make that clear days before the party.
If children are involved, you should remain transparent about which events and activities you are expected to attend.
Focus on Your Children
If you have children, you should spend time with them, especially if this is the first holiday season you'll be spending separated as a family. Invite your children over for a fun Christmas movie night or wait to decorate the tree with them. Creating special holiday events with your children will lift your spirits and remind you that although your future holidays won't be like former ones, they'll still be filled with happy memories.
Your children need you as much as you need them around the holiday season. By choosing to focus on them, you'll remind them (and yourself) that none of you are alone in this.
Create New Holiday Traditions
The holiday season after a divorce is the perfect time to create new holiday traditions. These new traditions can be alone, with friends, or with your children. You can take up traditions like cooking a special holiday meal with your children or planning a holiday gathering with close friends. You can even take new holiday traditions outside of the home by volunteering for a local charity or food bank.
Surround Yourself with Friends and Family
It's easy to feel isolated in your home and think of memories with your ex-spouse during the festive season. If you need a day alone, take it, but remember to surround yourself with those who love you most. The most important thing you can do after a divorce before the holidays is to surround yourself with people who care and love you.