Divorce Mediation in Georgia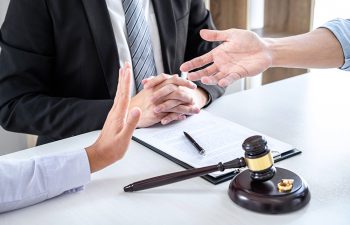 Divorce Mediation in Georgia Saves You Time & Money
No two divorces are the same. At times the experience can be a long and difficult process, or it can be amicable and smooth sailing. Some divorcing couples decide to try to make it easier through mediation. Divorce mediation in Georgia involves meeting with a third-party individual to discuss issues and coming to a united agreement rather than fighting it out in a courtroom. Mediation can reduce overall legal time and costs and allows the parties to determine the final outcome of their case rather than leaving the outcome subject to the unpredictable decision of a judge or jury.
Issues such as property division, child custody and support, and alimony payments are resolved before the divorce is finalized. The goal of divorce mediation is to get spouses to communicate effectively for the best possible outcome.
How Does Divorce Mediation in Georgia Work?
During divorce mediation in Georgia, both divorcing parties meet with their attorneys and choose a mediator to help create compromise. A mediator can be a retired judge or attorney certified to mediate family law issues. Mediators have great knowledge and experience in family law and no legal grounds to make final decisions or judgments. The mediator is unbiased; therefore, the agreement facilitated between two divorcing parties remains objective.
Is Divorce Mediation in Georgia Expensive?
Divorce mediation in Georgia is less expensive than a traditional divorce in a courtroom. Mediation cuts down the extra fees that would be paid for a traditional courtroom divorce proceeding. However, you still have to pay attorney fees and mediator fees.
Mediation saves you time and money. Rather than spending time and money in a courtroom or your lawyer's office, the reduced and flexible meeting times for mediation allow you to continue working, taking care of children, and handling other responsibilities.
Divorce Mediation Checklist
There is a range of issues that can be resolved in divorce mediation in Georgia. Before you go into your divorce mediation, create a checklist of topics to discuss and meet with your attorney beforehand so that everyone can be on the same page. Issues that can be discussed include:
Child Custody & Visitation
Child Support
Spousal Support
Marital Asset Information
Liabilities (Debts)
And More
Court-Ordered Mediation v. Private Mediation in Georgia
There are two main types of divorce mediation in Georgia. Both methods use the same process and professionals involved.
Private Divorce Mediation – Mediation is a decision that the couple decided to pursue before proceeding with a divorce.
Court-Ordered Divorce Mediation – A family law judge can decide that you and your spouse should attempt to compromise through a court-ordered mediation before continuing with divorce proceedings. A court may choose a mediator for the couple or leave the decision up to the couple.
Talk to the Divorce Mediation Professionals in Georgia at Boudreaux Law Firm
If you are looking for professional divorce mediation in Georgia, rely on Boudreaux Law Firm to help you navigate it. Divorce can be tense and confusing, but when you have experienced attorneys by your side, the process can be easier for all parties involved. Boudreaux Law Firm in Georgia has experienced divorce mediation attorneys ready to listen to the most important issues for your divorce.